I really felt the need for a hat for the 18th century market I attended yesterday and have, since a year or so, planned to do something about a straw-hat I have. It has a rather unbecoming round top, so I wanted to disguise that somehow. In my stash I found a piece of silver silk dupion and as I wore a grey petticoat I thought that would look all right.
This is what I started out with. Planned decoration and inspiration: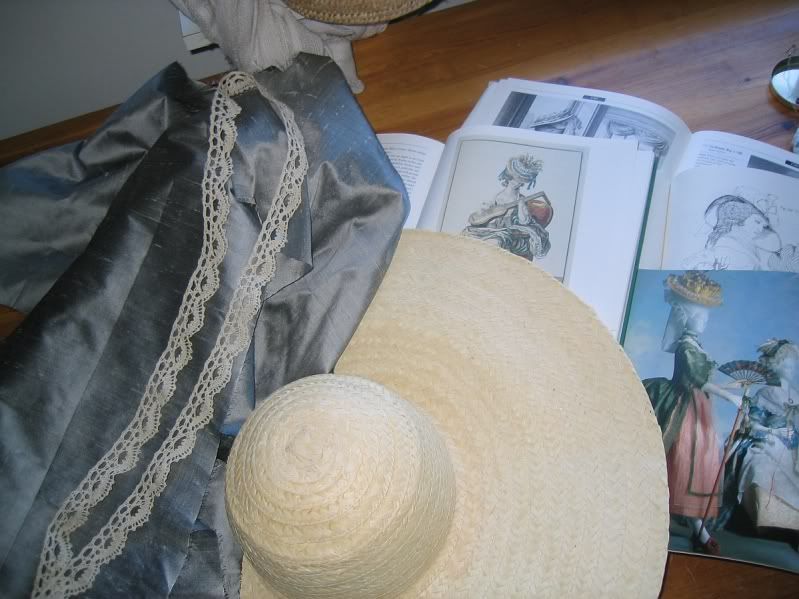 And this is what I ended up with: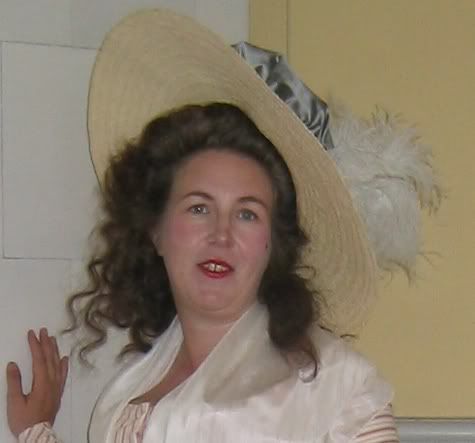 I cut out a circle as big as my scrap allowed, around 45cm across. Then I cut a strip around 65 cm long and clued that to a strip of thick paper- in ended up being 5 cm wide. I gathered the circle to the strip, and then the (sewn together) strip to the straw brim. I purposely made the brim wider in the front and on the undecorated side. I made a halfcockard out of green silk and attached five white feathers behind. I'm very pleased with the result! It took about 3 hours from start to finish and then I watched Buffy while I did the sewing, so it probably took a little longer than if I had concentrated only on the sewing. I think it becomes me very well, if I'm allowed to say so and I was really pleased on how my hair turned out. Though I think I will buy some loose curls to attach to the back. Then I can curl all my hair tightly and let the fake hair hang down my back.