The fashion of the Middle Ages have never held more than a general interest for me, but I've come to realize that I need a medieval gown. I know a lot of people who are into it and I would like to be able to attend to some parties and events. As I don't have any particular period I fancy more than others, I've no idea what to sew, though. I would like to use a pattern that is period correct, as well as correct fabrics and colours. I'm not much concerned about sewing something fancy or upper class, but I seem to know better sources for inexpensive silk than I do wool.
I hope you won't mind. I'm not after anyone doing research for me, but the Net is vast and I'm not sure where to start. I would very much appreciate is someone could point me to a good starting point. I can goggle myself, of course, but I don't know enough about the fashion of the time to be able to say if the hits I get are trustworthy. What I need to find out about is good patterns and proper material. Well, I assume linen for underwear and wool and silk for outer layers, but I've no clue about appropriate weights and textures and only hazy knowledge about colours. Any nudges in the right direction will be much appreciated!
I have a more specific question for my Swedish friends. I've been given this sewing description of a 12th century gown: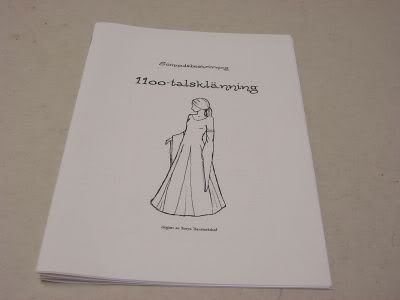 I like the look and will have no trouble following the description, but I would like to know if this really is a 12th century gown or just a sort-of-12th century.
Even if I won't start a big collection of medieval clothes, I want the ones I have to be correct.