In three weeks time I'm going on an 18th century weekend and as I won't be able to wear stays, I need clothes that are loose. I already have simpler clothes, but I really wanted something nice for the evening and though a robe battante would be a very good solution. We will ignore the sheer madness of attempting one- I did try to get the voice of reason, but everyone I asked told me to go for it. I promise, I will not kill myself in making it, if I can't finish, then I won't try to finish.
A robe battante, or volante, is a loose gown from the early 18th century with the back in watteu pleats. Worn over panniers it gave the wearer a rather bell-shaped silhouette.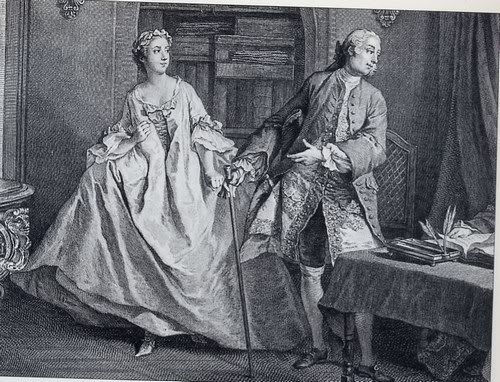 Though an informal gown it could certainly be worn at social gatherings and in painting by Nicolas Lancret and Jean François de Troy engage in various pleasant pastimes, wearing this comfortable gown.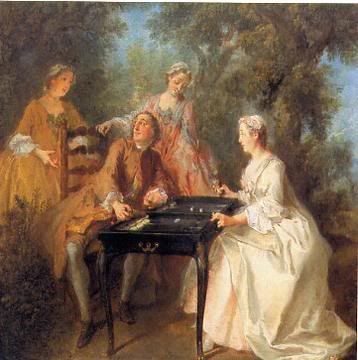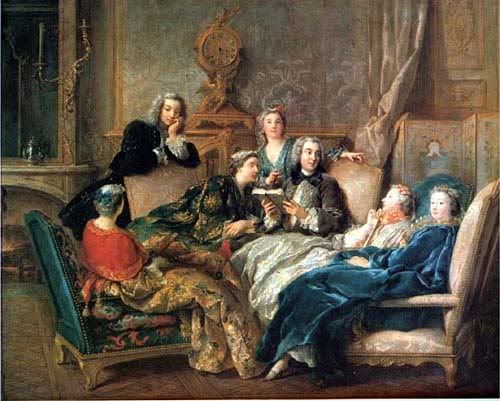 As you can see above the neckline generally seems to be V-shaped and the front may be open down to the waist. Winged of shaped cuffs seems to be most common. Being so loose it could certainly have been worn without stays, but on those gowns that are open, it seems to reveal laced stays underneath. I don't find that so odd- for many women it can be uncomfortable to go without any support at all. And stays was what you wore, something you put on at a daily basis without thinking about it. Stays aren't in itself an uncomfortable garment and can be laced so it just gives a nice support.
It's hard to see on the picture above, but the front is close by tiny silver frogs. Very cute. The collar is rather odd, though. Again it's hard to see here, but it looks like a "fur" made out of small loops.
The battante had a little sister too, the shorter casaque. Here a very striped one.