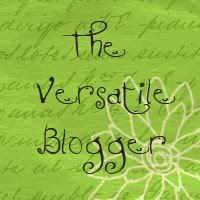 This summer I was given The Versatile Award Blogger by no less than three charming ladies who has the blogs
American Duchess
,
Hyaline Prosaic
and
Staying Alive
Thank you!
And to fulfil my part here are
7 things about me:
1) I work with trains- I have even have two different jobs that concern trains, but I'm not in the least interested in them.
2) I can always find money to buy books, fabric and shoes. Life essentials.
3) People who don't know me often seem to think I'm conservative and prudish. I admit that I can poke fun out of those people if I notice they do.
4) Bent in childhood by Monty Python, I tend to laugh at British humor.
Black Adder, Red Dwarf
and
Comic Strip presents…
are high on my list. And
Jeeves and Wooster
and
The Young Ones
.
5) My favorite kind of cat is grey long-haired ones (not with flat noses). That's totally Mips Moppet's fault, my grey Norwegian Woodcat/Siamese/Ordinary stable cat breed that I lived with and loved for 14 years.
6) I was very quiet around people until I was 18. I've been making up for that for 22 years…
7) I'm a descendant from Charlemagne. That is not very original, as there are several millions out there who can make the same claim.
5 blogs to pass this award on to:
A Festyve Attire
I'm certain most of you know about Jen's wonderful website with the same name, but she also has this lovely blog, well worth reading. Not to be confused with her Live Journal.
Lithia Black
A blog in Swedish, I'm afraid. Lithia runs a company for alternative clothing, which she blogs about, but she does other crafts like knitting, so I think she earns a blog that is called just versatile.
Idzit
Stunning clothes from various decades. She doesn't write much in her blog, but I think you will agree with me that she has a talent for a lot of things.
Om stil
Another Swedish blog, but a lot of the content can be found in English in this
journal.
Eva blogs about clothes and shoes, with a twist that I don't think many can achieve.
Casey's Elegant Musings

Beautiful girl who makes beautiful retro clothes. Even her blog posts are beautifully done.