Last year I was tipped about
Ageless Artifice,
and bought two products to use
in my lecture on 18th century beauty
. I was very pleased with them and they made me want to try other of the products. Now when I finally have, I thought it could be of interest to other re-enactors to have a review over period products.
I felt so inspired when I got my parcel that I had to do a full make-up using "the right stuff" as far as possible. As this post got pretty long, I will make another post about that.
The company and the products
Ageless Artifice is a company that make reproduction beauty products. They recreate recipes from Ancient Egypt to the 19th century, though with two important omissions. No toxic products and nothing that is endangered. If possible, they use organic. They pack their products in containers that looks very period and reflect the time frame, alabaster jars for Egypt, wood for medieval and the 17th century. The 18th and 19th century is packed in round metal boxes. Liquids you get in small glass bottles. You also get a little card with the name of the product and the company printed on one side and the original recipe and its intended use on the other.
They ship worldwide, but make sure you go to shipping and read up on shipping costs, as you need to add that amount of money as Paypal doesn't. Being a bit absent-minded I forgot to do that the last time, which bring me to their customer service, which is excellent. Within hours after placing my order I got a mail about the shipping and when I had paid it, again within hours, I got a mail that my order had been sent. It took six days (counting the time zone difference) from placing the order to receiving it and then it had shipped from USA to Sweden! First time I purchased I had a couple of questions and they were answered promptly and friendly then too. I paid through Paypal but it is possible to download an order form and pay with a check.
I ordered just about all the products of the 18th century, except those I already had. Here is what it looked like fresh out of the package.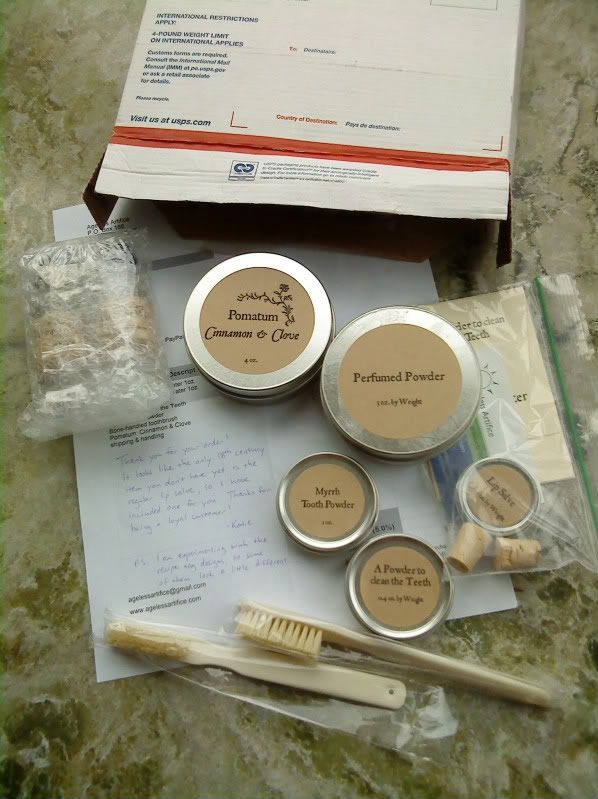 You can see part of the hand-written note that said that as I seemed to have all but one 18th century products, the uncoloured lip salve, it had been included too. Very nice!
Pomatum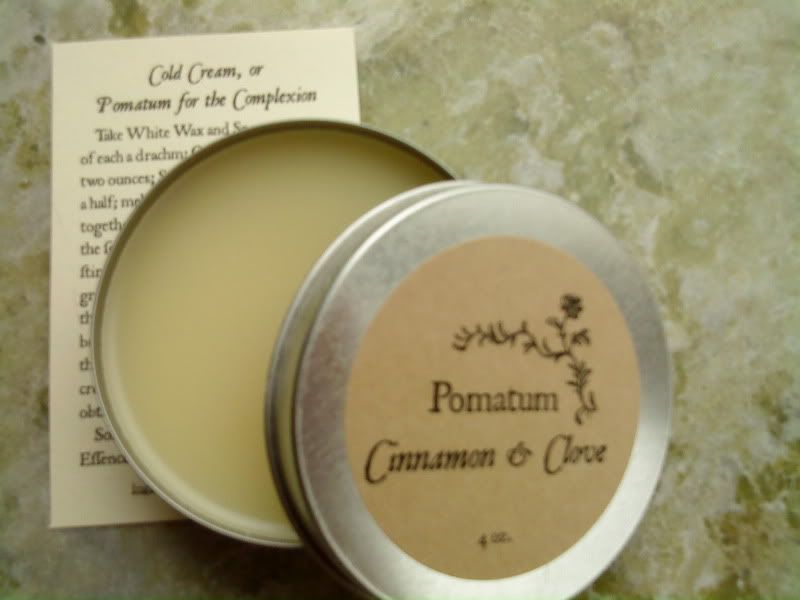 This is simply almond oil and beeswax and you can get it unscented or scented with jasmine or cinnamon and cloves. I thought unscented would be a bit boring and dislike jasmine, so I ordered cinnamon and cloves. It's very nicely scented, not too strongly. It is, obviously, a very fat cream and rather solid in the box. However, if you scoop it up, it quickly becomes runny from the heat of your hands. A little goes a long way here! It's advertised for dry hands and this is what I will use it for, but in the 18th century you put this on your face, so I had to do that just to try. It felt very nice on my skin and my face felt very soft even after I washed it away, but this close to my nose, the scent got a little overwhelming. If you want to use it on your face, take the unscented cream. I have a friend who makes a similar cream for her face and swears to it and she has very nice skin.
Rouge and lip salve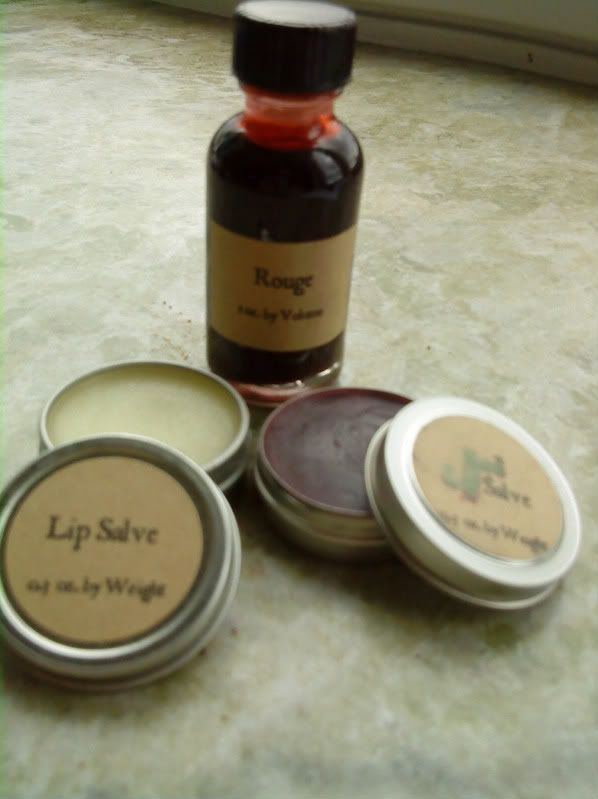 The rouge and the red lip salve was what I purchased last year, so they have been used. The rouge is a liquid, actually brandy and what gives it its red colour is red sandalwood, brazil wood and alum. It's a bit tricky too apply and you don't need much, so practice a little. Better to start faint and build up the intensity in layers, but let it dry in between. If you have ever used a modern stain, then it's very similar. The red colour is very warm in its tone. As you can see from the pic, you get it in a little glass bottle. The bottles ships with a screw-on cap, but you get a cork stopper too, which makes it looks more period. As my rouge gets to travel a bit I use the modern cap, but if you just going to have it standing on a shelf, the cork looks much prettier.
The lip salve gets it colour from alkanet root and is colder in its red tone. It doesn't stay put in the same way as the rouge as it has the same base ingredients as the pomatum, almond oil and beeswax. However, it does give a very lovely rosy colour and I like it very much. Your lips will stay very soft and if you just want something that gives a little shine, then there is an uncoloured version too.
It's hard to photograph samples, but this gives you an idea. The rouge is the more orangery red, while the lip salve is more pinkish. You can also see the difference in intensity where I have applied the rouge several times to just once.
Perfumed powder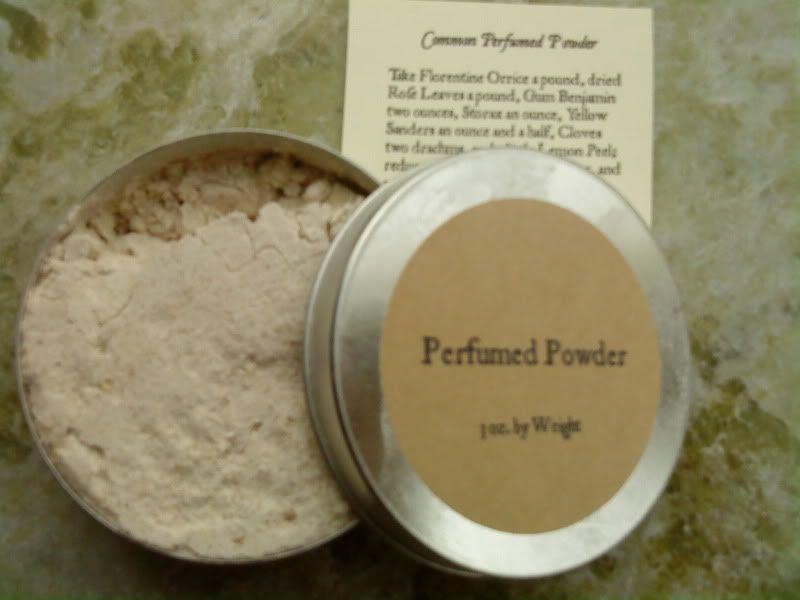 Arrowroot scented with orris root, rose, lemon and cloves. Perhaps that sounds overpowering, but it's really a very subtle and lovely scent. If you don't like to wear perfume, this would be a good alternative, I think. Adverts be used on your body, but I used it the 18th century way, in my hair, with good result. I'll talk about that a little more in my next post.
Lavender water and Hungary water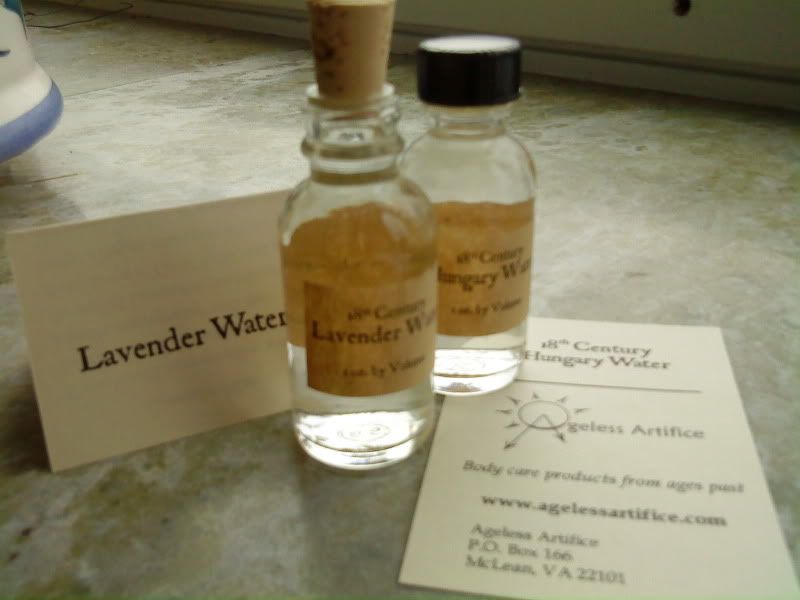 I was very sceptical to order this as I've never, ever come across a lavender scent I've liked. However, I'm a bit mad about perfumes , so how could I resist an 18th century perfume? I'm very glad I ordered it, because it smells wonderful! Not quite as subtle as the perfumed powder, but still not a "loud" perfume. I love it and I think I have finally found my period solution for the next 18th century party, as I've so far haven't liked other reproduction scents on me much.
Hungary water is scented with rosemary. I liked the scent, very refreshing, but on me it faded very quickly and I couldn't detect it at all after an hour. However, that could just be me, Scents react to your body chemistry and some scents may be very strong on you when it isn't on others, and the other way around.
Both waters are definitely unisex. It was popular in the 18th century to use the same perfume as your loved one, so now you have the opportunity! I think they would work very well as an after shave for the gentlemen, as they are alcohol based and not too strong in their scent.
A powder to clean your teeth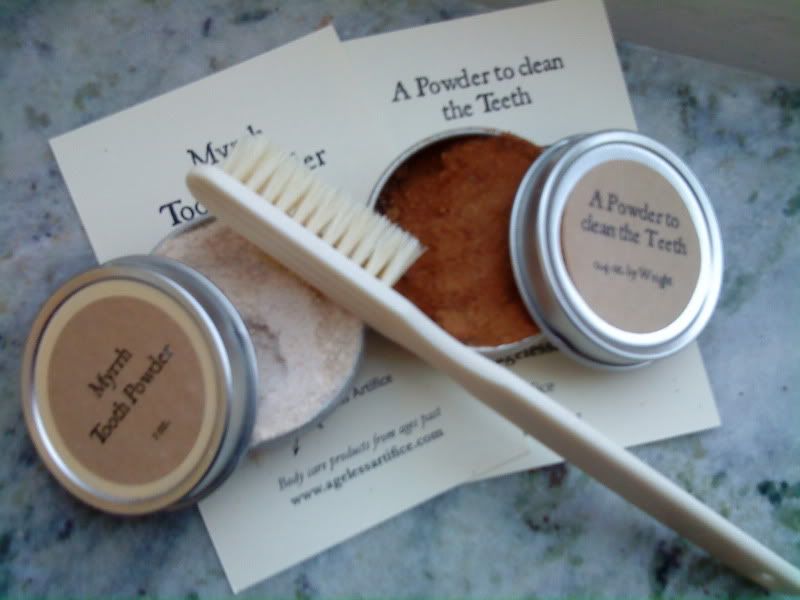 Yes, you did clean your teeth in the 18th century, but toothpaste wasn't along yet. Tooth powder was what you used then. You simply dip a wet toothbrush in the powder and brush away. Or rather, don't dip, but sprinkle a little on the toothbrush instead- much more hygienic. This toothpowder contains dragon's blood (a resin) and cinnamon. The cinnamon may sounds very weird, but it actually have antiseptic properties, so it isn't as far-fetched as it may appear. It felt a bit strange to brush your teeth with it, though. It doesn't foam as toothpaste do and you may need to sprinkle a little more powder on your toothbrush after a while, but my teeth felt very clean after, albeit in a rather cinnamon bun-y way. The cinnamon leaves your mouth a bit gritty, though, so you may need to rinse your mouth a bit more careful than usual.
Myrrh tooth powder
Similar to the other tooth powder, only this has myrrh in it instead. That taste bitter, so there's some peppermint oil in it too. This makes sit taste much more like ordinary toothpaste and this powder dissolves completely, I rinsed with water more out of habit than by necessity. It left a very clean feeling in my mouth as well.
Which tooth powder to choose is a matter of taste buds, but if I were somewhere with limited amount of clean water, the I would go for the myrrh powder.
Bone-handled toothbrush
Natural bristles in a bone handle. I'm not sure what natural means here. Traditionally it meant swine bristles, so perhaps that is it. It's not a very comfortable brush as its large and the bristles very stiff. However, it does the job and now you can brush your teeth in public at the next 18th century event and not be ashamed. Well, if you want to brush your teeth in public that is...
General opinions
Am I pleased with my purchases? Yes, definitely. I think it's great that you can buy reproduction beauty products. Even if you can make this stuff yourself, with more or less ease, I find it easier to be able to buy it. They did sell pomatums and powders in the 18th century too, so you don't have to make it all in your kitchen to be period. I haven't quoted any prices and I know what is considered affordable vary, but for me they are definitely affordable. Everything I have tried form Ageless Artifice have been well-made and of good quality too. Being all natural they may not keep as well as modern products that are filled with stuff to make them keep forever, but just use clean hands and applicators (you should with all beauty products anyway) and I don't think you will have any problems. My lip salve was purchased nine months ago and it is perfectly fine.
Will I purchase again? Yes, definitely. I have my eyes on the 17th century Damask powder and perfumed water and there are some 19th century products I would like to try too. And I'm very curious new products.
I hope you have enjoyed my review. Perhaps I should add that I'm not in any way endorsed by Ageless Artifice, this is my opinion of them based on what I have purchased.